Did you have a nice Easter or, if you're Jewish like me, final weekend observing Passover?
All I know is that, by this time each year, I'm dreaming of bagels, waffles and every other carbohydrate I don't usually eat, because I'm desperate for bread after seven days without it.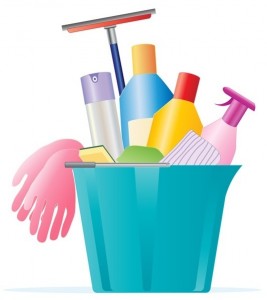 I'm so desperate that, to take my mind off it, I usually start doing some spring cleaning (though I avoid the kitchen!).
Well, during this year's spring cleaning, I stumbled upon an old picture of me (teenage me) and my parents with a little girl named Katie Robertson.
And instead of basking in the clean, fresh scent from cleaning, I found myself looking at this photo and basking in the incredible courage Katie, age 11, had…in facing cancer and in being herself.
I am who I am, and who I am needs no excuses…
I still remember the night that picture was taken. We were at The Galleria here in Atlanta.
My dad had arranged for me and my mom to have dinner with Katie and her mom, Judy, because he wanted us to meet this very special little girl that he, as a physician, had been treating for cancer behind her cheek and eye.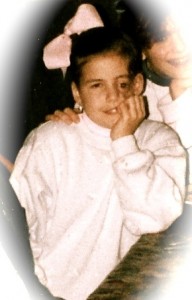 When I first saw Katie, I couldn't help but notice that she looked a little different. Due to her cancer, she had to have part of her cheek and her left eye removed.
But what I noticed even more was Katie's huge spirit and her endless enthusiasm as she spoke of wanting to be a doctor when she grew up; or when she talked about Camp Sunshine, a summer camp for children with cancer that she loved; or when she talked about how she named her cat after my dad, Ramon.
Even though others in the restaurant may have stared at Katie for the way she looked, I stared at Katie in complete awe of the incredible courage and bravery she displayed in facing such a difficult adversity…and in showing the world who she was, no apologies, no excuses.
When you need courage to show the world who you are, look to Katie…
It can be hard to muster up the courage to show the world who you are. Maybe you think you're not enough. Or, you're scared that the world will reject who you are.
Each and every time you hesitate to show the world your beautiful self, I hope you'll think about and take inspiration from this short, yet, I think, powerful story. I know I do.
Katie looked forward to going to Camp Sunshine every year. One year, she decided to participate in the camp's talent show.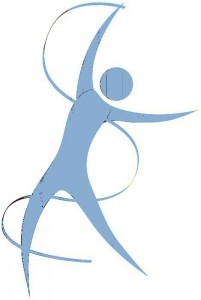 With the same courage and conviction I described earlier, Katie, despite looking different due to part of her cheek and eye missing, stood up in front of over 300 people and sang and danced to a Paula Abdul song.
And we're talking real singing here. No lip syncing.
That's a special kind of courage.
And I hope that every time you're tempted to hide yourself (or a part of yourself) from others, you'll think of Katie and think that, if she could get up on that stage with all of her differences and bare herself and her soul unapologetically, you too will realize that…
You are who you are, and who you are needs no excuses. (<– Click to Tweet!)

Your turn! Have you met someone like Katie who's inspired you to show the world who you are? Share in the comments below who your inspiration is!
To showing the world who you are, 

 

P.S. – Like this post? Sign up in the right sidebar to get email updates! (No spam & it's free!)
P.P.S. – Know someone who could use a little courage to share themselves with the world? Please share this post with them!