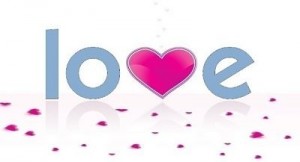 Happy Holidays! I hope this holiday season for you is filled with lots of love. For yourself and for others.
Now, because it's the holidays, I know that usually involves going to a lot of parties and all. But instead of inviting you to a huge party, I wanted to invite you to get on the love train!
Because call me maybe or call me a little bit sappy, but I think the world needs love more than ever right now. Love to remind us that even when horribly tragic things happen in the world, like as of late, there is still good.
There is still love.
So, join me this week as we hop on the love train and "travel" by video to three heartwarming stops – one involving an arthritic dog named Shoep and his best friend, John; one featuring a little kid making a BIG difference in the fight against hunger; and one (my favorite!) highlighting two brothers sticking up for their sisters with down syndrome.
All aboard to stop #1!
#1) Man is Dog's Best Friend: Love dogs? Then you'll love this touching video about John and his beloved 19-year-old dog, Schoep, who has arthritis and can't sleep. To ease Schoep's pain, John takes Schoep into the water and lets him sleep peacefully on his shoulder. It's pure love! Click 'play' to watch…and see the poignant image that's been viewed over 3 million times on Facebook!

#2) Finding Fun Ways To Fight Hunger: Who says you have wait to be an adult to help others? Watch the video below to see how a small kid is making a BIG difference (like an over $20,000 difference!). Makes me wonder what the heck I was doing as a kid!

#3) Speaking Up Against Hate: Meet the Hollis boys, 6 and 7. After their family's house was spray-painted with words of hate because their two sisters have Down Syndrome, they, with the help of their parents, made this very moving video to stick up for their sisters. AMAZING VIDEO! Click 'play' to watch…
So, get on the love train! Have you stumbled across a video or story that's touched you and might touch others? Share it with the Be Yourself community in the comments section below! Or, tell me how you plan to create more love in the world in 2013.

P.S. – Like this content? Sign up in the right sidebar to get blog updates by email! (It's free!)
P.P.S. – Think the world needs more love? Share this post with others and tell them to get on the "Love Train"!