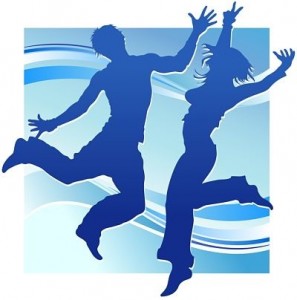 Tell me, are you giving the world a reason to dance? Kid President wants to know.
If you haven't heard of Kid President, he's an amazing 9-year-old child who's described by Wikipedia (and Rainn Wilson of The Office) as an American comedian, motivational speaker and YouTube sensation.
What Kid President really is, though, is a child on a mission to change the world. And he thinks we all need a pep talk.
To remind us that, "It's everybody's duty to give the world a reason to dance." 
Now, because I love Kid President so much, I want as many people as possible to hear his pep talk – really, just from a production standpoint alone, it's amazing how a child this young can execute a script so well!
But what's even more amazing is that Kid President (aka, Robby Novak) maintains such a joyful attitude despite having Osteogenesis Imperfecta, a brittle bone condition that's contributed to his having over 70 breaks since birth.
Click 'play' to watch Kid President's pep talk, and then check out below eight ways for you to give the world a reason to dance.
Inspiring, right? So, we've been pep-talked. Now let's each do our part to make the world more awesome. Every day.
8 Ways You Can Give The World A Reason To Dance (<- Click to Tweet!)

#1:  Smile. The easiest way to make someone's day – and it's free!
#2:  Dance. Both in the sunshine and in the rain. With others or by yourself. An instant joy creator!
#3:  Perform a random act of kindness each day. Doesn't matter how small or how big – the joy created is the same. Huge!
#4:  Say thank you. No matter how busy one is, there is always time to say thank you.
#5:  Start a creative project. Whether you show it to one person or more, creativity is a gift to the world.
#6:  Reach out and touch someone. Call a friend. Hug a family member. You'll make their day!
#7:  Send someone a "happy". Send someone you know a card or a little gift for no reason. (Psst…this will make them do #1.)
#8:  Laugh. Yes, definitely the best medicine. And it's wonderfully contagious.
Your turn! So, I'd love to hear from you. What are some other ways that we could give the world a reason to dance? (<– Click to Tweet!)
Tell me below, and let's help Kid President make the world more awesome! (And if you'd like to watch a background piece CBS News did on Kid President, watch this to see Robby's joy in action.)
To choosing awesome,

P.S. – Wanna make the world more awesome? Help Kid President change the world by sharing this post with others!
P.P.S. – Like this post? Sign up in the right sidebar to get email updates! (No spam & it's free!)