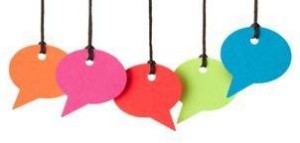 I hate labels. I always have. Oh, not the kind you use to label your kids' clothes for camp or the ones that tell you that that candy bar has only eight grams of fat in it, so you feel like you can eat it without feeling guilty. (It's a Three Musketeers, if you're interested…)
No, I'm talking about the labels we use for people. To categorize and classify – and often judge – them.
Smart. Dumb. Pretty. Ugly. Fat. Skinny. Dog person. Cat person. It's like our minds have this filing system in which we need to organize people so that we know how to act towards people.
Why do we label people? How do these labels affect how we treat people? And how can we stop labeling people, especially since it seemingly happens so instantaneously?
Check out my interview below with growth coach, Thommi Odom, for answers to these questions and more!
Today's Takeaway — Be careful how you label someone. Because when you do, no matter what that person does, he or she will inevitably "live up to the label", regardless of whether it holds any truth or not. Because you've already decided that's the case.
Learn more about Thommi — visit her website (www.thommiodom.com) or follow her on Twitter (www.twitter.com/ThommiOdom).
Now, it's your turn! Share your thoughts in the comments below:
Why do you think we have this natural tendency to label people?
Have you ever experienced a time when you were labeled or pre-judged by someone? How did it feel and how did you overcome it?
P.S. – Like this content? Sign up in the right sidebar to get blog updates by email! (It's free!)