Greetings…
So, this week's post is going to be super short and super sweet.
Call it an interlude, if you will.
Have you ever had an experience or a relationship that was, well, just not easy?
You know the kind…rather than bringing you happiness and comfort, this experience or relationship brings you a sense of turmoil and hurt…as well as an array of other emotions.
And you think, gosh, if only this relationship with this person was easier.
If only this experience wasn't so difficult.
Why is this happening to me?
Well, maybe something Oprah Winfrey said can help you, like it's helped me.
I love this quote by her…
Ready?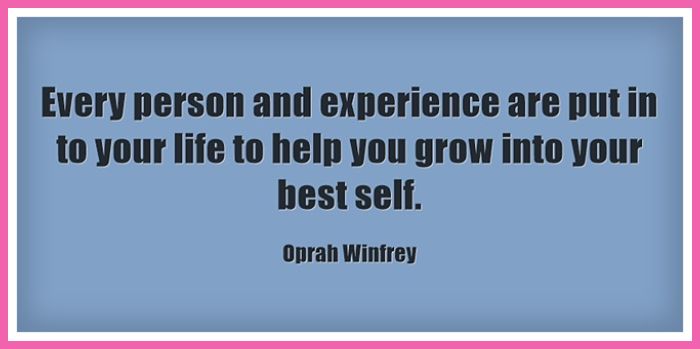 Really, it's true.
These difficult experiences and/or challenging relationships are like mirrors, reflecting back to us areas where we – not others – need to grow.
So often, we're preoccupied with thinking about what the other person did (or didn't do). Or we're thinking about how unfair or unpleasant that experience was.
Next time, try focusing within.
And use that challenging relationship or that difficult experience to grow yourself into your best self.
Tweet this –> Difficult experiences and relationships are like mirrors. They reflect back to us areas where we, not others, need to grow.
Know someone who needs a little help dealing with difficult people or experiences? Please share this post with them by using one of the share buttons at the top or bottom of this post, or emailing them this URL: http://beyourselfandtherestwillfollow.com/when-you-encounter-difficult-people
To being your best self,

P.S. – Like this post? Sign up in the right sidebar to get blog updates by email! (It's free!)
P.P.S. – See those 'share' buttons below? If you think this post would be valuable to your followers, please share it with them!